Impact Hub Ljubljana is much more than just a co-working place. It is also a part of the global network of Impact Hubs around the world, the goal of which is to build a diverse community of social and impact entrepreneurs (entrepreneurs with a positive social and environmental impact), organisations, and everyone else who shares the desire to achieve positive changes for society and our planet.
Impact Hub's story began in 2005 when it prided itself on only one community and one location. Today, it is a network of more than 24,000 people driven by the desire to change the world for the better—and its good cause has already spread to over 100 locations and over 60 countries worldwide!
This opening means that the first co-working space dedicated to social and impact entrepreneurs will finally find its place in Slovenia as well. And in this case, it all started with just an idea as well, this time from the four founding organisations—Institute for Health and Environment, International Youth Health Organization, Youth Network No Excuse Slovenia, and Slovenian Youth Agency, who have made it possible for the members of Impact Hub to work in the very centre of Ljubljana!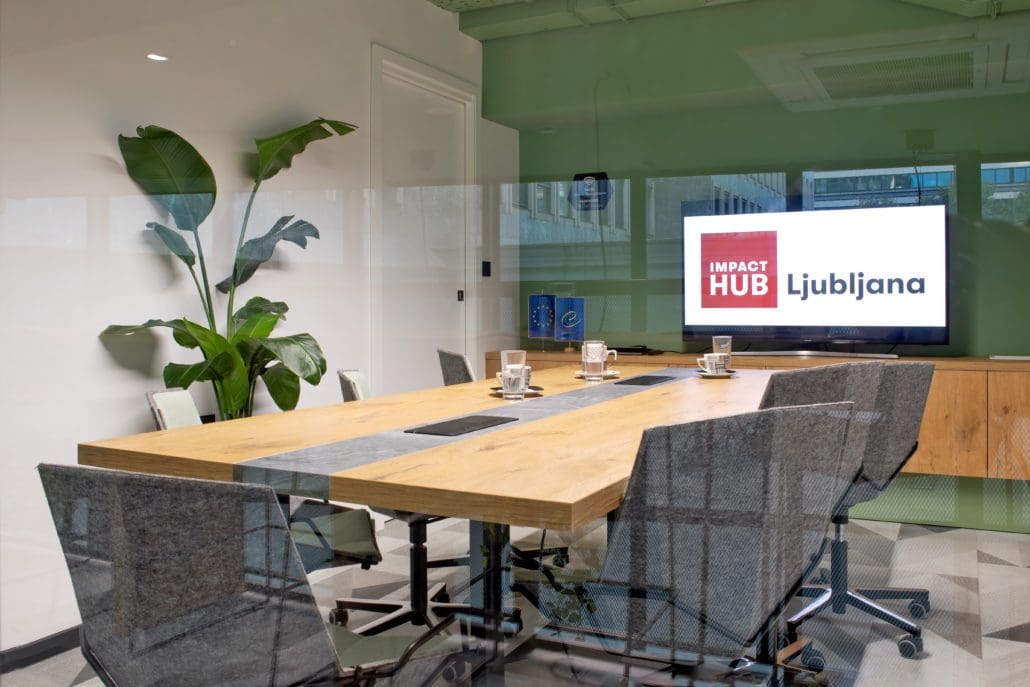 Completely renovated offices in the former premises of the Ljubljana Stock Exchange spread over 350 m2 and include five offices, open space seating, meeting and event rooms… The premises boast state-of-the-art equipment carefully selected by the Slovenian design duo Peppermilk Design who did not forget to make sustainable choices along the way. In the common areas and meeting rooms, for example, you can find chairs from the Slovenian company Donar, which were made from recycled plastic bottles, an abundance of plants that additionally fill the offices with oxygen to wake up your brain, as well as the most advanced technologies, which make the building more sustainable.
The premises were already well-packed before the official opening and eagerly await to welcome more impact-driven individuals. Its members will benefit from accessing the knowledge, experience, and resources of other entrepreneurs who have followed a similar path, mentors who can help them overcome business challenges, and funding opportunities from investors who value social impact just as much as our communities. We believe that we cannot solve the world's biggest challenges alone, but should rather use community and connections as our main strength.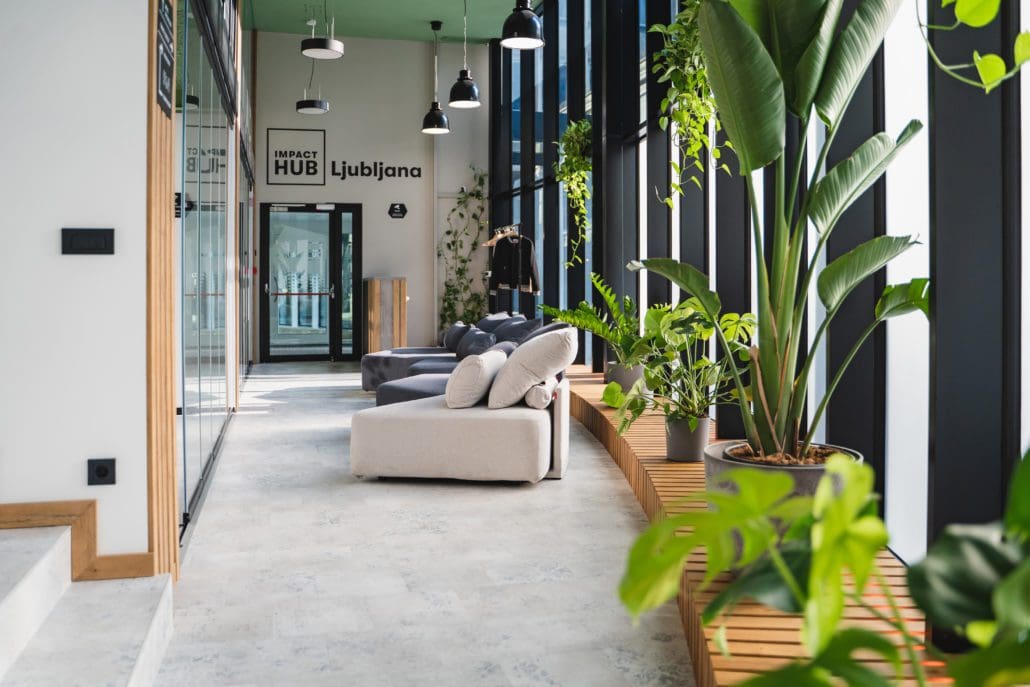 On this occasion, Jan Peloza, director of Impact Hub Ljubljana, emphasised that "connecting within and across the social and impact entrepreneurship sectors is of key importance for Slovenia, as there is currently a considerable gap between them. On one hand, some companies pay millions to appear socially and environmentally responsible, on the other hand, we have organisations that do the same, mostly free of charge or voluntarily. In Impact Hub Ljubljana, we see an incredible opportunity to connect the two worlds, because only in this way will we leave behind a better world than our ancestors."
And this is precisely where our members play the main role. We want to empower all members and other visitors of Impact Hub Ljubljana to contribute to a better future for everyone! Are you with us?